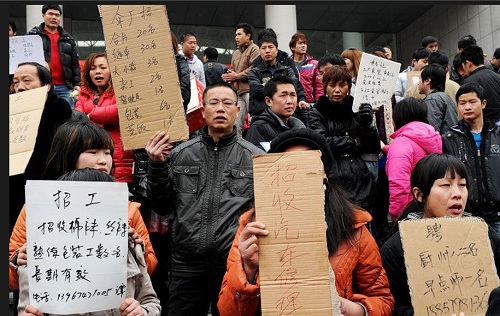 The shortage of labor after the Spring Festival can be described as "the year-by-year shortage of labor." This year's labor shortage has not only solved the problem, but has intensified.
Let's take a look at the post-2012 holiday season in major cities:
In Beijing, the demand for employment mainly focuses on domestic service, catering services, skilled workers, etc. It is estimated that there will be approximately 100,000
Jobs
.
Guangzhou, short-term labor shortage 110,000.
Fuzhou, the demand for labor reached 45,700 people. Occupation gaps in the industry are mainly concentrated in traditional industries such as footwear, electronics, textiles, and handicrafts.
In Shanghai, workers such as couriers, waiters, housekeeping, and manufacturing operators are the most understaffed.
In fact, not only developed cities such as Beishangguang, but labor exporting provinces such as Hubei and Sichuan also face post-holiday employment.
Before and after the Spring Festival in Hubei Province this year, the employment gap reached 500,000-600,000. This continuous labor shortage has also spawned a "Folk Retrieval" team, and some stations have emerged across the border with agencies that specialize in recruiting labor. Foxconn, a major employer of labor, began recruiting from the sixth month of the first month. To attract workers, Foxconn not only increased its basic salary from 1,350 yuan to 1,550 yuan, but also sent a free shuttle bus to job interviews.
All kinds of signs show that this year's labor shortage has become increasingly fierce. According to the analysis, the emergence of labor shortage is caused by many factors. There are economic factors, but the most important issue is the treatment of migrant workers.
If the profits of a large number of companies were previously based on the crushing and exploitation of migrant workers, then in order to attract migrant workers, companies must begin to try to squeeze profit margins, improve the working environment of workers, and strengthen corporate culture.
Companies should recognize that as the labor shortage spreads across the country, the "Lewis Turning Point" may come ahead of schedule ("Lewis Turning Point" concept is developed by the development economist Lewis: Every country will encounter a turning point where economic development enters a new phase. That is, the growth rate of labor demand exceeds the growth rate of the labor supply, which leads to an increase in wages, which means the end of the era of "demographic dividends." Enterprises should learn to "letter profits" from migrant workers.
According to news reports, in order to cope with the "recruitment difficulties", in addition to rising wages, companies have frequently resorted to "warm feelings": free arrangements for collective tourism, library and cybercafes, and arrangements for couples' houses have taken such measures as many migrant workers. Feeling warm and willing to work in such companies.
Jobs
Discover where teaching abroad can take you. You dream job is out there, We're here to help you get it .
English Teacher Jobs,Online Esl Teaching Jobs,Teach Kids English Online,Teach English To Students
Shanghai Careersec Cultural Exchange co. LTD , https://www.careersechr.com